Piano Lessons at Kerry's Piano Studio
Training fingers, ears & eyes.
Looking for piano lessons Brisbane? Kerry is a highly experienced piano teacher, teaching piano to students of all ages and skill levels at Kerry's Piano Studio located in The Gap Brisbane.
Kerry has been teaching piano for over 35 years. She enjoys working with both adults and children and combines aspects of her classical and jazz training in her piano teaching style. Her calm, supportive teaching method combined with an extensive musical knowledge provides a base from which she individually tailors lessons to suit each student. This flexible approach has made her a sought-after teacher who is highly recommended by students.
Kerry is highly qualified having achieved the following music and teaching qualifications:
As students learn piano with Kerry, they learn to read music and develop a reliable technique but are also encouraged to play by ear and to improvise. Students wishing to sit for AMEB Qld exams are encouraged to to so.
With younger children  (4 years old plus) Kerry uses a Kodaly-based method with lots of singing, rhythm games and aural training. Zoltan Kodaly (1882 – 1967) was a Hungarian composer and educator who believed that everyone has musical aptitude and that music develops a person on all levels – emotionally, spiritually and intellectually. He recommended that music education should start as early as possible and mirror the way children learn naturally – with singing, playing games and movement.
Listen to Kerry playing JS Bach – Prelude No. 2 in C Minor
Annual Concert and Christmas Concert for Students
Every year in Term 3, Kerry's students get together and perform at Kerry's Piano Studio's annual concert. This year we experimented with separating the adult students from the younger students and had a lot more adults performing. So the experiment has been deemed a success and will be repeated in 2018.
Concerts are held at Birralee Headquarters in Bardon,using their beautiful Grand Piano. The students really enjoy showing their parents/grandparents what they have been learning in their piano lessons. Kerry's Piano Studio also holds an informal concert at the end of the year.
30 Piece Challenge
This year instead of doing an incentive scheme for the amount of practice done, we have been focussing on the number of pieces learnt. In the music teaching world this is known as the 30 (or 40 (or 50!!)) Piece Challenge. The Challenge began in July 2017, has been very motivating for many students and will continue in 2018.
AMEB QLD Piano Qualifications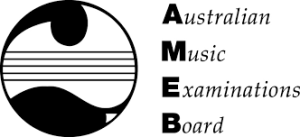 Kerry finds that working towards examination can be very motivating for some students.   If this is the case they are encouraged to sit the Australian Music Examination Board (AMEB) qualifications as they progress.
Every year many people sit AMEB music examinations for a variety of reasons. Many take exams at the advice of their teacher or as a prerequisite for tertiary entrance or as a benchmark of their education or for recognition of their year's hard work and achievement. Jazz students may sit The Associated Board of the Royal Schools of Music (ABRSM) examinations. If you are interested in achieving piano qualifications while learning piano with Kerry, please discuss with her what is required.
Kerry's Professional Development Program
Kerry has had a very exciting year of professional development. Highlights include:
continuing private lessons and teacher training sessions in the Taubman Technique* with Dr Therese Milanovic
jazz lessons with John Reeves
attendance at numerous Music Teachers' Association Workshops (Communicating Technique, Music Games, Business Matters)
attendance at 4 online workshops run by Bradley Sowash & Leila Veiss from 88 Creative Keys (Chord Boot Camp, Teaching Improvisation, Playing in a Band)
Membership of Piano with Willie (Jazz) and Piano Couture (Pop) online teaching sites
*The Taubman Technique is a study of the biomechanics of piano playing and enables pianists to play faster, stronger, softer, easier, more expressively and without risk of injury. It is also a fabulous diagnostic and therapeutic tool for pianists who have already injured themselves through bad playing habits.
Summer Jam Keyboard Band and Vocal Workshop
From December 13th to 15th this year, Kerry and her colleague Sue Crook (plano and vocal teacher) conducted their first Summer Jam
Workshop. Participants had the opportunity to
play in a Keyboard Band
sing with the band
learn more about chords and how to use them in Pop Music
have fun playing team music games
We were all very pleased at how much the students learned and how much fun was had. Summer Jam is open to any 9-12 year-old piano players – you don't have to be a student of Kerry's. Please contact Kerry if you would be interested in participating in future workshops.
Frequently Asked Questions
How much do piano lessons cost?
Individual half-hour lessons are $34. Hour lessons are $63. (Second and subsequent siblings will be given a $5 discount per lesson.) Invoices are sent out on a term basis.
Piano Lesson Rates
Individual Half-Hour Lesson: $34
Individual 1 Hour Lesson: $63
Siblings 2 Half-Hour Lessons: $63
How old should children be when they start piano lessons?
It's never too young to start to learn piano provided the child is keen, the approach is aural and imitative, and everyone realises progress will not be so rapid with very young children. From about age 7, children can more easily learn to read music.
Do we need to have an acoustic piano at home?
Ideally, yes, but many students begin on digital keyboard piano and can progress well. Digital pianos must be touch-sensitive and of a reputable brand.
Kerry's Piano Studio Policy 2017